A text written by a non-native speaker stands out; it's obvious and quite often has lost the true contextual meaning. Translation was historically practiced by literary writers or critics. Today, many translation agencies offer a ratio of words per euros. A good buy maybe, but not the "adaptation" that makes a difference.

English à la carte has many years of experience in translation, from PowerPoint presentations to press releases, newsletters or websites, as well as a supplier of regular web maintenance so that the site's bilingual authenticity is intact with each update. We can also accommodate transcript or subtitle needs of audiovisual programming or promotional tools sent to you from an international partner.
Traduction & Transcription

Un texte écrit par un non-anglophone ne tient pas compte du contexte et aboutit souvent à un contresens. La traduction est traditionnellement le domaine réservé des littéraires et des critiques.... De nos jours, les agences de traduction offrent un bon rapport mots/euros pour un résultat parfois approximatif.

English à la carte a des années d'expérience dans le milieu de la traduction : présentation PowerPoint, communiqués de presse, newsletter, sites web dont il assure la maintenance régulière. Il fait en sorte de préserver le sens orignal de chaque texte traduit. Nous travaillons aussi sur des transcriptions ou sous titrages de tous supports audiovisuels ou promotionnels.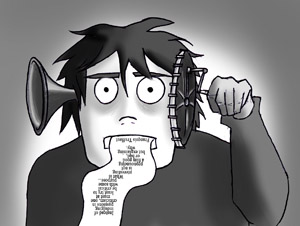 "Instead of indulging passions in criticism, one must at least try to be critical with some purpose…What is interesting is not pronouncing a film good or bad, but explaining why."

François Truffaut