Conference calls or meetings have become a weekly event in many international offices. Unfortunately international partners do not always know how to slow down or to restate their comments so that you can understand them, leaving many foreign speakers at a loss. English à la carte can help you learn to take notes and prepare the minutes or summary of the meeting, identifying the vocabulary that your correspondents use.

With a background in the world of journalism, English à la carte can also assist you in preparing for interviews or writing special feature articles for in-house newsletters or website content.
Rapport & Interview

Les réunions et "conférence calls" sont devenues des événements hebdomadaires dans les bureaux internationaux. Malheureusement, les partenaires internationaux n'ont pas l'habitude de ralentir ou de reformuler leurs commentaires avec d'autres mots pour vous aider à les comprendre. English à la carte peut vous enseigner comment prendre des notes avec des abréviations pour vous aider à rédiger ensuite un rapport avec le vocabulaire utilisé par vos collègues.

Grâce à son expérience dans le journalisme, English à la carte vous assiste également pour des interviews ou reportages destinés à être publiés dans vos newsletters ou sur un site web.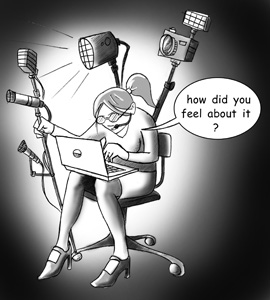 Who? What? Where? When? Why? and How? are simple questions in themselves and are the foundation for any interview as well as everyday conversation. Listening closely to the question means that you already have 50% of the answer.